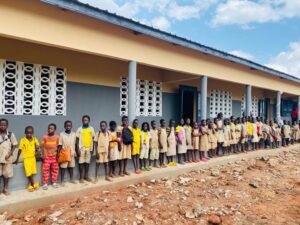 The road to Coafrica started in the forest of Oregon in 2009 when one of the founders heard a presentation on African education at a youth retreat. Shortly afterward the founders began sponsoring high-achieving students who didn't have the funds to attend high school or college. Supporting 4 students in 10 years made them aware of the impact a small donation could make in the life of an African student.
In 2013 the founders were moved by a book describing the horrors of human trafficking and a decision was made to dedicate extra funds to programs that fought human trafficking. For several years they searched for the right program to support, but nothing felt right until they were asked to help sponsor construction of a school in Zambia that would give 500 out-of-school children a chance at an education.
Research shows a correlation between education and a reduction in trafficking. An education reduces the number of youth turning to crime, helps prevent forced, early marriages and gives a student agency over their future. After working closely with this first project, the founders knew how they could best fight trafficking.
And from there the rest is history! Generous donations and dedicated team members have allowed Coafrica to grow into the lean, efficient organization it is today. We look forward to the thousands of students and hundreds of communities that will be impacted by the construction of an adequate school facility in their midst, and know that for many of the recipients and facilitators, a classroom to learn in will be a life-altering experience.