Magazine Primary School in Chipata, Zambia was completed in April of this year. Our Zambian project manager, Aggie Chiku Kazimoto, visited Magazine Primary School last week to gather some information on the impact in the community from this project.
This school project was the catalyst for many other projects in the community.  First of all, the community managed to sink a bore to supplement the water supply at the school and ensure there is always running water.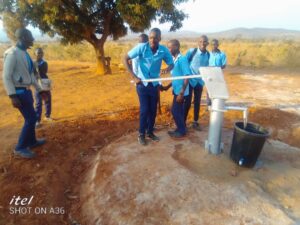 They have increased the enrollment by 231 pupils–from 778 to 1009–and the Government has recruited two more teachers for the school. They now have 11 teachers where they used to have 9.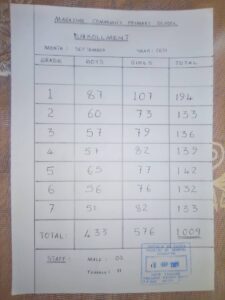 To adhere to COVID prevention guidelines, the school is running three sessions: morning, midmorning, and afternoon. Each session has 4 classes. Grades 1, 2 and 6 attend morning classes, Grade 5 comes at midmorning, and grades 3 and 4 are in the afternoon. Grade 7 attends the whole day because they are an examination class.
There has been minor maintenance required on the floor of one classroom, but otherwise the classroom block is in great condition.
We had some roofing sheets left over from the original project that we challenged the community to repurpose.  Aggie reports, "As far as the old roofing sheets, part of it was used to make chicken feeders and drinkers, for the chicken rearing project that the school has embarked on. The remaining sheets were used to supplement roofing the other classroom block, specifically the middle classroom."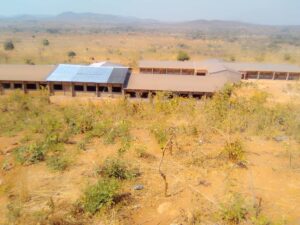 We're so happy to hear that not only are our classrooms being maintained and fully used, but that there are so many additional secondary benefits from community projects, government involvement, and increased teachers! What a wonderful impact for this school to have in the community in just 6 short months.