Our hard work finally paid off as we celebrated the handover of the new school in Bondo! "The community expressed their happiness and gratitude through different activities," says Goodwell, our project coordinator, "we had poems from the learners, choirs, and men wearing masks. We call it Gule Wamkulu and it's a traditional dance. The community leadership expressed their gratitude through speeches."
This ceremony included a traditional dance called Gule Wamkulu, performed by men in the community wearing masks.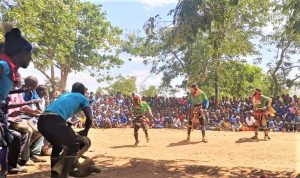 We were so excited to hand over the keys to this school that will enable more than 440 additional students to have a classroom!