The fourth step of our process involves reviewing our standard model plans, gathering competitive bids, and hiring a local contractor.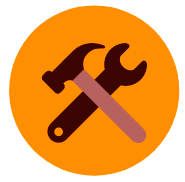 How we construct classrooms is just as significant as the classrooms themselves. Coafrica focuses on a continued streamlining of processes both internal and externally so we can ensure every dollar is used most effectively. 
It was this streamlining of processes that led to Coafrica's Standard Model. The Standard Model is exactly what it sounds like: a standardized model of how Coafrica builds its schools. It includes clear plans for every part of the school including floor plan, roof plan, size, elevation, windows, doors, etc. This helps us ensure that the schools Coafrica builds are the best quality while also keeping the process efficient and cost-effective.
Part of our process is reviewing our standard model plan to make sure that it meets the community's needs. If any adaptation is necessary, then we revise our plan, revisit our budget and make sure that we can achieve the community's goals within our parameters.
We have worked with several local contractors on the ground who have each contributed to the beautiful schools built across Africa. We are so grateful to them for their collaboration with our project coordinators, local communities and us. Together we are enabling more children to attend school and change their lives!
To contribute to our process, consider making a monthly donation. Every dollar makes a difference!